The International Union of Police Associations held the 2022 Attorney and Local Leaders Conference in Key West, Florida at the Casa Marina Key West, Curio Collection by Hilton on August 22, 2022.
The keynote speaker was William B. Aitchison, Director of Labor Relations Information Systems and Attorney at Law. Mr. Aitchison is a founding member of the Public Safety Labor Group. Over the course of his legal career, he has represented over 100 law enforcement labor organizations in five western states. He is a veteran of hundreds of public sector labor negotiations. He received his Doctor of Jurisprudence from Georgetown University Law Center in Washington, D.C. and is the author of several books on public sector labor matters, including The Rights of Law Enforcement Officers (8th Edition), and The FLSA, A User's Manual. Mr. Aitchison is also the founder and director of Labor Relations Information System. Since its inception in 1981, LRIS has been a valuable resource for public safety labor relations. LRIS conducts labor seminars, publishes a monthly newsletter, publishes mobile apps, and currently has six books in print.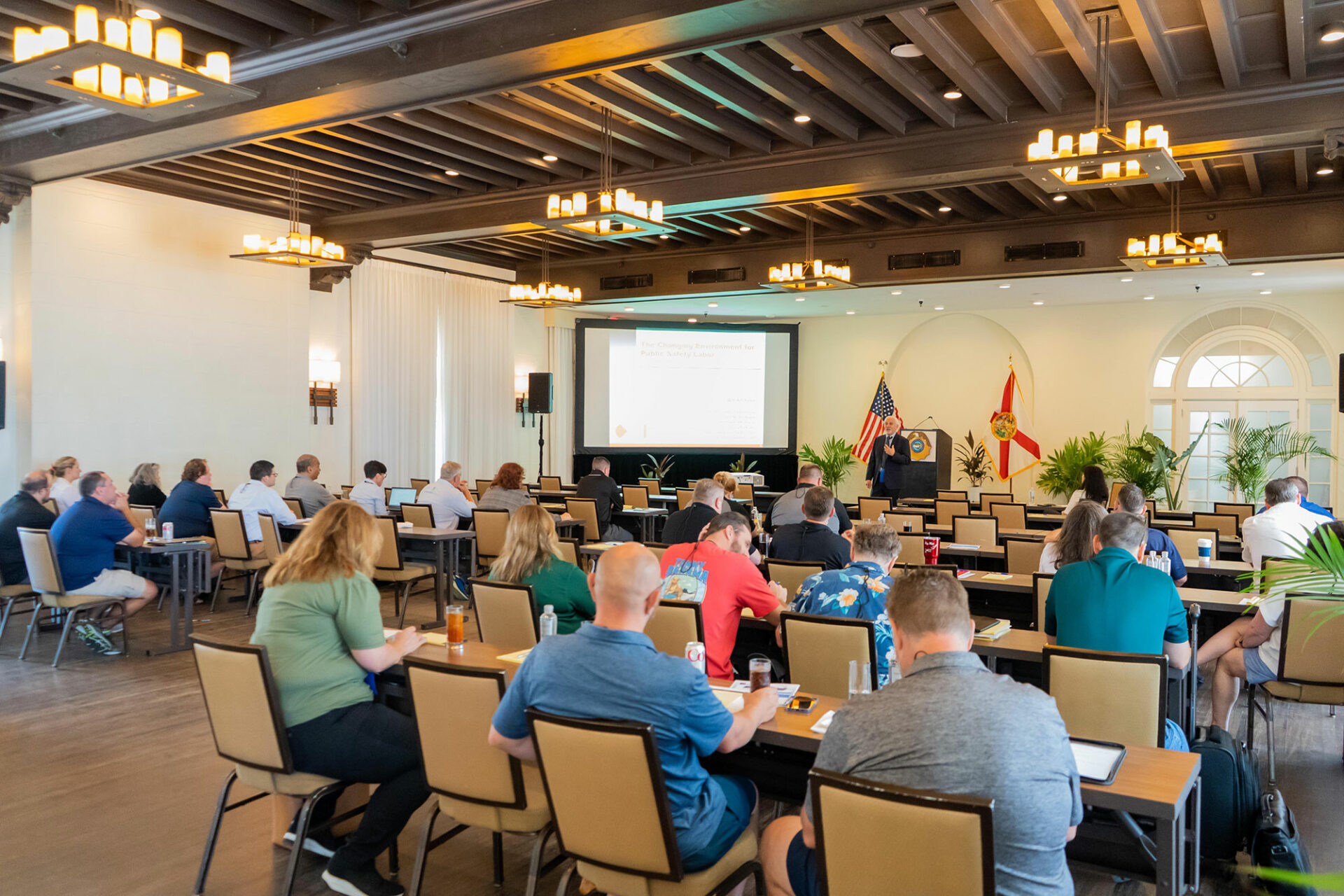 The conference was entitled, "Current Issues in the Representation of Law Enforcement Officers". Many topics of particular interest to law enforcement and labor were addressed, including national trends in wages and benefits, cyber security for law firms, Public Safety Officers' Benefits, worker's compensation, and more! Read more to learn about specific topics that were explored.
Veterans Affairs, Workers' Compensation, Social Security Disability and Public Safety Officers' Benefits – Disability Financial Planning for Law Enforcement Officers
It is not uncommon for law enforcement officers to suffer or sustain injury in the line of duty, and when injury occurs, it is important to help identify which to ensure that law enforcement officers receive the proper medical evaluation and treatment, in addition to financial compensation for lost wages and permanency related to their trauma. What benefits should I pursue? Can I collect more than one benefit at a time? What if I cannot return to work or I can only work in a limited capacity? How can I protect my family? This presentation answered these questions and discussed the most common types of benefits which law enforcement officers may be entitled to receive and how best to secure such benefits. Attorney Alex Dell, with over 27 years of experience representing law enforcement officers, and Attorney William Sterbinsky, a Marine Veteran, provided vital information to assist in protecting those injured in the line of duty.
Defining Scope of Employment
The presentation discussed the parameters of representing law enforcement officers in civil or criminal cases, and focused on what factors are considered in determining whether an officer's actions or inactions fall within the scope of their employment.
Cyber Security for Law Firms
This presentation focused on the current state of the law, what needs to occur when there is a security breach within an organization, sharing examples or cybersecurity attacks, and what a business can do to properly prepare and protect their information from getting hacked.
Recent developments from around the country in the area of public safety labor relations
Mandatory vaccination requirements. How are challenges to the mandates faring in federal and state courts?
A review of national trends on wages and benefits, the impact on wages of the national police recruiting crisis, and the evolution of thinking on police-fire parity.
The swirl of litigation around cell phones. The privacy rights officers have (or do not have) in their personal cell phones, employer-issued cell phones, and personal cell phones for which the employer pays a subsidy. How public records laws may make personal cell phone records subject to disclosure.
Developments under the Brady rule. The emerging due process concerns expressed by courts over unilateral placement of an officer on a Brady list.
Conflicting decisions from the courts as to what types of physical fitness standards are permissible for law enforcement officers, and how the ADA, the FMLA, and other federal laws interact to create privacy rights for officers' medical information.
What is happening with the FLSA? A review of FLSA litigation involving numerous law enforcement agencies.