Welcome to I.U.P.A.
The International Union of Police Associations is the only union chartered exclusively for law enforcement and law enforcement support personnel. While I.U.P.A.'s officers, active and retired law enforcement officers, fight to improve the lives of their brothers and sisters in law enforcement, I.U.P.A. works to improve legislation that protects and affects public safety officers, as well as representing the needs of law enforcement officers and support personnel, whether that be for better equipment, more staff or a fair wage.
Speaking with one Voice, Moving with one Purpose

New! Medicare Advantage coverage, available only to retired union members and their families. AFL-CIO Medicare Advantage Plans include prescription drug benefits and additional health resources.
Link to retireehealth.unionplus.org
Sam A. Cabral, President of the International Union of Police Associations asks voters to consider public safety as they vote. He stated, "Public safety should be foremost in voter's minds as they cast their ballots in this year's elections." Cabral continued, "Retail establishments are being looted openly and brazenly, over [...]
Ever stop to think how many times in your life you could use some legal advice? Maybe you want to create a will, review a legal document, or purchase a home. With MetLife Legal Plans, you can have unlimited access to legal consultation and representation for help whenever you [...]
Our History Over 95 years ago, labor leaders formed The Union Labor Life Insurance Company to provide financial security to the movement's members and their families. At the time, many union members were denied life insurance because they worked in high-risk jobs or because they [...]
 November is a time to be thankful, a time to remember and embrace those who put their lives on the line protecting us every day.   Thanksgiving is fast approaching, and National University wants to take a moment to tell you how much we appreciate your selfless dedication and commitment to [...]
  Diabetes is a chronic condition that affects a person's blood glucose levels. While the exact cause is still unclear, people living with diabetes may be at a higher risk of hearing loss. This might be due to high sugar levels potentially causing nerve damage to the inner ear. Diabetes is [...]
Union Plus

Heroes Vacation Club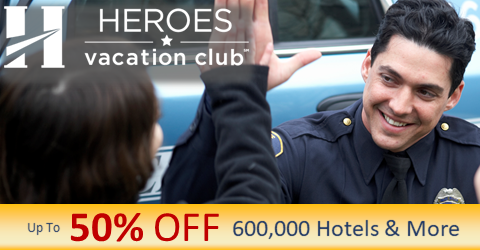 Start your 120-day free trial Click here — there will be a subscription fee to continue receiving these amazing discounts.
Check Out Our Exciting New Products: 
600,000 hotels up to 60% off retail
2,000 Weekly Condo-Style resorts up to 25% off retail
Car Rental
Activities
Flights
2,000 Cruise Itineraries (booked by phone only)
HEROES POINTS: New members receive 1,000 Heroes Points to be used to buy down travel products – giving members' additional savings.  New members who sign up for a Free Trial Membership or existing members who log in are eligible to win one of five weekly vacations by being entered in "Win a 7-night vacation" with our Vacation for Heroes Sweepstakes!