Welcome to I.U.P.A.
The International Union of Police Associations is the only union chartered exclusively for law enforcement and law enforcement support personnel. While I.U.P.A.'s officers, active and retired law enforcement officers, fight to improve the lives of their brothers and sisters in law enforcement, I.U.P.A. works to improve legislation that protects and affects public safety officers, as well as representing the needs of law enforcement officers and support personnel, whether that be for better equipment, more staff or a fair wage.
Speaking with one Voice, Moving with one Purpose

The Alliance for Retired Law Enforcement Officers (ARLEO) organization offers a variety of Benefits that provides a resource to Legally Protect any LEO in Good Standing to Carry their Personal Firearm and offers Savings of Thousands of $'s Annually for them and their Families…
Link to www.arleo.org
On behalf of the International Union of Police Associations, I am pleased to announce our support for your timely legislation, H.R. 304 the "To Serve Our Communities Act". As crime has skyrocketed around this great nation, we are finding that many of these perpetrators have multiple arrests and many are [...]
Being prepared is important … especially if you develop a health problem like cardiovascular disease, stroke, cancer, or are involved in an auto accident that lands you in intensive care. These events can impact not only your health, but also the financial wellbeing of your family. American Income Life [...]
  February is the perfect time to plan a getaway and escape the winter weather. Whether you are looking for a romantic retreat with your significant other or a fun-filled family vacation, now is the time to start planning your next trip. One of the best ways to save on [...]
Union Plus brings you savings and discounts year-round. Here are some of the deals available to I.U.P.A. members this January through Union Plus!   CASH BACK SHOPPING Start your new year off with up to 40% cash back! Union members get paid every time they [...]
The start of a new year is a great time to evaluate long-term wellness goals! Areas to consider include: Eat Better Get More Rest Be More Financially Responsible Manage Your Stress Move More Read though the pdf below to learn more.   (Click the image below to view PDF)  
Union Plus

Heroes Vacation Club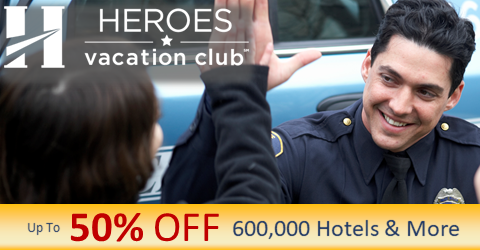 Start your 120-day free trial Click here — there will be a subscription fee to continue receiving these amazing discounts.
Check Out Our Exciting New Products: 
600,000 hotels up to 60% off retail
2,000 Weekly Condo-Style resorts up to 25% off retail
Car Rental
Activities
Flights
2,000 Cruise Itineraries (booked by phone only)
HEROES POINTS: New members receive 1,000 Heroes Points to be used to buy down travel products – giving members' additional savings.  New members who sign up for a Free Trial Membership or existing members who log in are eligible to win one of five weekly vacations by being entered in "Win a 7-night vacation" with our Vacation for Heroes Sweepstakes!