Welcome to I.U.P.A.
The International Union of Police Associations is the only union chartered exclusively for law enforcement and law enforcement support personnel. While I.U.P.A.'s officers, active and retired law enforcement officers, fight to improve the lives of their brothers and sisters in law enforcement, I.U.P.A. works to improve legislation that protects and affects public safety officers, as well as representing the needs of law enforcement officers and support personnel, whether that be for better equipment, more staff or a fair wage.
Speaking with one Voice, Moving with one Purpose

The Alliance for Retired Law Enforcement Officers (ARLEO) organization offers a variety of Benefits that provides a resource to Legally Protect any LEO in Good Standing to Carry their Personal Firearm and offers Savings of Thousands of $'s Annually for them and their Families…
Link to www.arleo.org
I am proud to announce our support for your critical and timely legislation, S. 868, "A bill to amend Title 18, United States Code, to make the murder of a federal, state, or local law enforcement officer a crime punishable by life in prison or death". The International Union of [...]
The I.U.P.A. regularly conducts research to support our members and to aid us in advocating for the best interests of law enforcement nationwide. Please take a few minutes to complete the survey at the below link on staffing concerns in law enforcement that the I.U.P.A. is [...]
Sportsmen and sportswomen have the pleasure of serving family and friends the free-range, organic protein they caught, killed, trapped, and chased. But wild game, fish, and fowl can be tricky to cook compared to store-bought alternatives, leading to common descriptions like "gamey," especially by those looking for an excuse [...]
Allied Wellness has yet another informative newsletter for I.U.P.A. members. This time, it is on a topic that affects LEOs significantly – back injuries and exercises! This newsletter comes from Allied Wellness Health Coach and Physical Therapist, Taylor, who covers: What is the Thoracic Spine? Sitting and Your Thoracic Spine [...]
  Catania Medallic Specialty, Inc., a leading supplier of custom medals, coins, lapel pins, and other emblematic items, has been named the 2023 Awards and Personalization Industry Supplier of the Year.  This prestigious award recognizes the exceptional service and support that Catania Medallic Specialty, Inc. provides its customers in the [...]
Union Plus

Heroes Vacation Club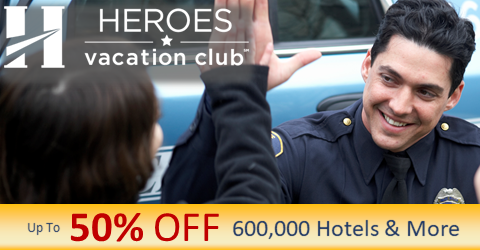 Start your 120-day free trial Click here — there will be a subscription fee to continue receiving these amazing discounts.
Check Out Our Exciting New Products: 
600,000 hotels up to 60% off retail
2,000 Weekly Condo-Style resorts up to 25% off retail
Car Rental
Activities
Flights
2,000 Cruise Itineraries (booked by phone only)
HEROES POINTS: New members receive 1,000 Heroes Points to be used to buy down travel products – giving members' additional savings.  New members who sign up for a Free Trial Membership or existing members who log in are eligible to win one of five weekly vacations by being entered in "Win a 7-night vacation" with our Vacation for Heroes Sweepstakes!