Welcome to I.U.P.A.
The International Union of Police Associations is the only union chartered exclusively for law enforcement and law enforcement support personnel. While I.U.P.A.'s officers, active and retired law enforcement officers, fight to improve the lives of their brothers and sisters in law enforcement, I.U.P.A. works to improve legislation that protects and affects public safety officers, as well as representing the needs of law enforcement officers and support personnel, whether that be for better equipment, more staff or a fair wage.
Speaking with one Voice, Moving with one Purpose

The Alliance for Retired Law Enforcement Officers (ARLEO) organization offers a variety of Benefits that provides a resource to Legally Protect any LEO in Good Standing to Carry their Personal Firearm and offers Savings of Thousands of $'s Annually for them and their Families…
Link to www.arleo.org
On October 25, 2023, we lost former I.U.P.A. President Robert Kliesmet. He was aged 91 at the time of his passing. Bob was an Army veteran and former Milwaukee Police Officer. He was key to the creation and development of the Milwaukee Police Association and led the I.U.P.A. from 1982 [...]
Nobody knows the importance of quality ammunition and performance better than our union brothers and sisters in law enforcement. That is why Liberty Ammunition is offering I.U.P.A. members an exclusive, limited-time offer of 40% off ammunition purchased through the Liberty Ammunition website through Dec. 15, [...]
Lakewood Police Department posted on social media proudly about their Victim Assistance Unit winning the DASH Award (Domestic Abuse Survivor Heroes) for their work with victims of domestic abuse. The hardworking and dedicated ladies of Lakewood, Colorado who won the award are wives of I.U.P.A. Local Lakewood Police Union, [...]
A hearing exam is about more than listening to beeps through a pair of headphones. A full hearing evaluation performed by an audiologist or hearing instrument specialist is a thorough examination that results in valuable, in-depth information about your hearing. "When it comes to [...]
THE BEST WINTER JACKET FOR FIRST RESPONDERS. In the line of duty, first responders and police officers face a wide range of challenging weather conditions. To meet these challenges head-on, having the right outerwear is not just a luxury—it's a necessity. Explore the benefits of Blauer System Outerwear [...]
Union Plus

Heroes Vacation Club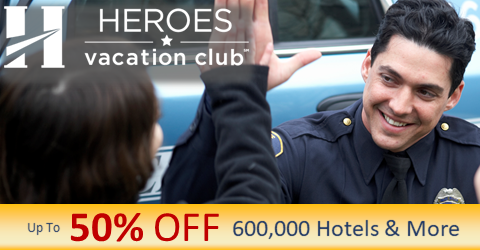 Start your 120-day free trial Click here — there will be a subscription fee to continue receiving these amazing discounts.
Check Out Our Exciting New Products: 
600,000 hotels up to 60% off retail
2,000 Weekly Condo-Style resorts up to 25% off retail
Car Rental
Activities
Flights
2,000 Cruise Itineraries (booked by phone only)
HEROES POINTS: New members receive 1,000 Heroes Points to be used to buy down travel products – giving members' additional savings.  New members who sign up for a Free Trial Membership or existing members who log in are eligible to win one of five weekly vacations by being entered in "Win a 7-night vacation" with our Vacation for Heroes Sweepstakes!