Welcome to I.U.P.A.
The International Union of Police Associations is the only union chartered exclusively for law enforcement and law enforcement support personnel. While I.U.P.A.'s officers, active and retired law enforcement officers, fight to improve the lives of their brothers and sisters in law enforcement, I.U.P.A. works to improve legislation that protects and affects public safety officers, as well as representing the needs of law enforcement officers and support personnel, whether that be for better equipment, more staff or a fair wage.
Speaking with one Voice, Moving with one Purpose

The Alliance for Retired Law Enforcement Officers (ARLEO) organization offers a variety of Benefits that provides a resource to Legally Protect any LEO in Good Standing to Carry their Personal Firearm and offers Savings of Thousands of $'s Annually for them and their Families…
Link to www.arleo.org
On behalf of the International Union of Police Associations, (I.U.P.A.) I write to urge you to move H.R. 3079, the "Back the Blue Act of2023". The International Union of Police Associations, AFL-CIO, represents rank and file, active-duty law enforcement professionals across this great nation, including the U.S. territories of Puerto [...]
Farmers markets are a great way to implement fresh fruit and vegetables into your week! Not to mention, you get to support your local vendors and reduce your carbon footprint since the produce does not have to travel as far to get to you. Due to the wide variety [...]
Start taking advantage of exclusive savings and support built for union members and their families. You have free access to these benefits whenever you need them. All you have to do is sign up for Union Plus, if you haven't already! [...]
Last time, we covered blood flow restriction training and how this can be incorporated into your training to aid in prevention of injuries and improvement of performance. The final and just as equally important lesson as all the rest is the importance of recovery and nutrition.  So, to close [...]
If you have purchased term life insurance, and it's nearing its expiration date, what happens next? Unlike whole life insurance, which provides coverage for the life of the insured, term life insurance is coverage for a set period of time where the insurer pays the [...]
Union Plus

Heroes Vacation Club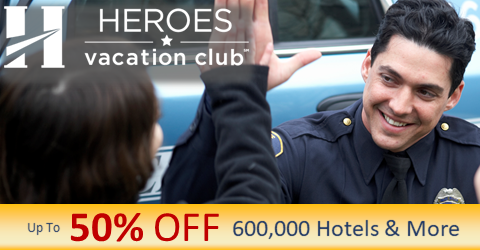 Start your 120-day free trial Click here — there will be a subscription fee to continue receiving these amazing discounts.
Check Out Our Exciting New Products: 
600,000 hotels up to 60% off retail
2,000 Weekly Condo-Style resorts up to 25% off retail
Car Rental
Activities
Flights
2,000 Cruise Itineraries (booked by phone only)
HEROES POINTS: New members receive 1,000 Heroes Points to be used to buy down travel products – giving members' additional savings.  New members who sign up for a Free Trial Membership or existing members who log in are eligible to win one of five weekly vacations by being entered in "Win a 7-night vacation" with our Vacation for Heroes Sweepstakes!