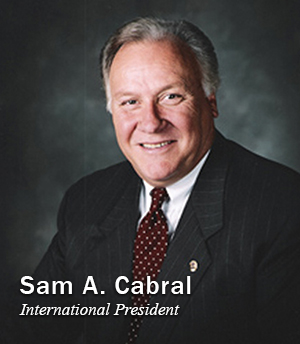 Sam A. Cabral was re-elected as the International President of I.U.P.A. in August of 2016. President Cabral began his law enforcement career with the Defiance, Ohio Police Department in 1965 and he retired in 1991 as a Detective Sergeant in charge of the Defiance Detective's Bureau.
In 1988, Sam was elected as the International Vice President of I.U.P.A. In 1990, he was elected as the International Secretary-Treasurer. He has served as the International President of I.U.P.A. since 1995. As the International President, Cabral leads the only union that exclusively represents rank and file law enforcement officers, EMS workers, and corrections officers in the United States, Canada, U.S. Virgin Islands and Puerto Rico .
Sam's law enforcement and labor background began when his peers elected him as the Chief Union Steward at Campbell Soup for four years before joining the police force. After joining the force, he affiliated the Defiance Police Officers with I.U.P.A. and became President of Local 166 in 1978.
His educational background includes attending Defiance College, University of Toledo where he earned his Criminal Justice Degree. He has studied at the George Meany Center for Labor Studies in Washington, D.C. and is a 1978 graduate of the 113th Session of the National FBI Academy.
President Cabral currently serves on the Executive Board of the National Law Enforcement Memorial Fund Association, American Income Life's Labor Advisory Board as well as various federal law enforcement task forces.
President Cabral has testified before the United States Congress promoting legislation designed to improve both law enforcement policy and the conditions under which police officers work. He has guided legislation that has directly, or indirectly, affected law enforcement officials, such as being appointed in 1994 to the Congressional Commission on Crime Control, responsible for developing the 1994 Omnibus Crime Bill.
In addition, Sam ensures that I.U.P.A. is the front-runner in being the members' advocate on local, state and federal issues that are important to law enforcement. Many issues that he has fought hard on include an increase in the number of officers available to police departments, the rights of police officers, age discrimination, as well as overtime pay cuts.
International Executive Vice President
Michael V. Crivello started his law enforcement career in 1986 with USAF Security Police.  During his career in the military/National Guard he deployed to over twenty countries.  He served at the Pentagon and State Headquarters; he was forward deployed in response to the 9-11 attacks; and retired as a Command Chief Master Sergeant in 2009.
Mike Crivello retired from the Milwaukee Police Department after completing greater than twenty-seven years of service [1991-2019].  Throughout his career, he had worked many assignments starting in patrol; was on the ground floor of the creation of the, now, very credible beat/bicycle program; served on a Federal Task Force; performed undercover work in the Vice Control Division; while working in the Sensitive Crime Division, he specialized in crimes against children; he worked various assignments in the Criminal Investigations Bureau; and he also served as an adjunct instructor, specializing in Defense and Arrest Tactics (DAAT). Mike completed his career in the promoted rank of Detective.
Mike has been a successful Milwaukee Police Association Steward and Trustee, with an undeniable focus toward membership care. He served as the Union President from 2010-2018.  As President, he was the Chair of Bargaining, Executive Committee, Fire & Police Commission relations, Legal Claims, Public Relations & Publications, and an Ex Officio of all other committees.  President Crivello was also a registered Lobbyist.  With many successes and accomplishments – under his leadership, he maintained collective bargaining for public safety, lifted the salaries of his membership greater than twenty-seven percent, and repealed a seventy-eight year draconian law which prohibited the individual choice of residency – members were finally permitted, by law, to live beyond the limits of the city boundaries.
Mike currently serves the members of the I.U.P.A. as the International Executive Vice President.
"It is an absolute great honor to be associated with the finest men and women of law enforcement – members of the I.U.P.A.   It is my personal pledge to work tirelessly to ensure the greatest level of care and assistance to our Locals. "     
Mike Crivello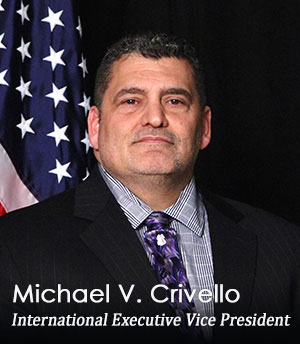 International Secretary-Treasurer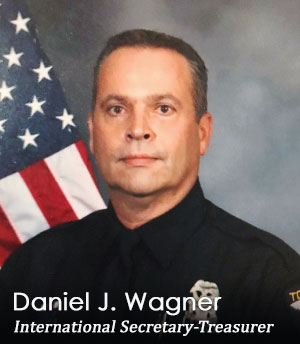 Daniel J. Wagner was appointed by the International President and approved by the I.U.P.A. Executive Board as the International Secretary-Treasurer on October 1, 2020.
Prior to his appointment, Dan has had a long history with the International, which includes serving as the President of the Toledo Police Patrolman's Association (TPPA) from 2006 until 2018.  From May 2008 until September 2020, Dan also served as the Region 7 Vice President on the I.U.P.A. Executive Board and on the Budget and Finance Committee.
As the Vice President of Region 7, he represented a region consisting of the states of Indiana, Kentucky, Michigan, Ohio and Pennsylvania. During his time as Vice President, Dan worked tirelessly to abolish legislation potentially harmful to law enforcement officers and to organized labor, including the historic repeal of Ohio's Senate Bill 5.
Senate Bill 5 could have negatively impacted over 400,000 public servants by limiting the scope of collective bargaining to wages only; forcing workers to forgo their right to negotiate healthcare benefits and pension security.
As International Secretary-Treasurer, Dan is the Chief Financial and Recording Officer.  Among his various duties, he is responsible for Chairing the Budget and Finance as well as Constitution Committees. A passionate advocate for our great nation's veterans and service members, Mr. Wagner has also been privileged to serve as a law enforcement escort on several Honor Flights.