Tacoma Police Union I.U.P.A. Local 6 and Nothing Bundt Cakes local bakery showing their support for the Tacoma Station 8 Firefighters
The Tacoma Station 8 Firefighters responded to a house fire and attempted to rescue an 11-year old girl. They got her to the hospital, but she tragically died from her injuries. To show their support for fellow first responders and the grief they certainly were experiencing, a board member of the Tacoma Police Union I.U.P.A. Local 6 went to a bakery to get cupcakes to deliver to the firefighters at the station impacted by the rescue attempt. When the owners found out what was going on, they donated the cupcakes.

 Thank You to Nothing Bundt Cakes – South Hill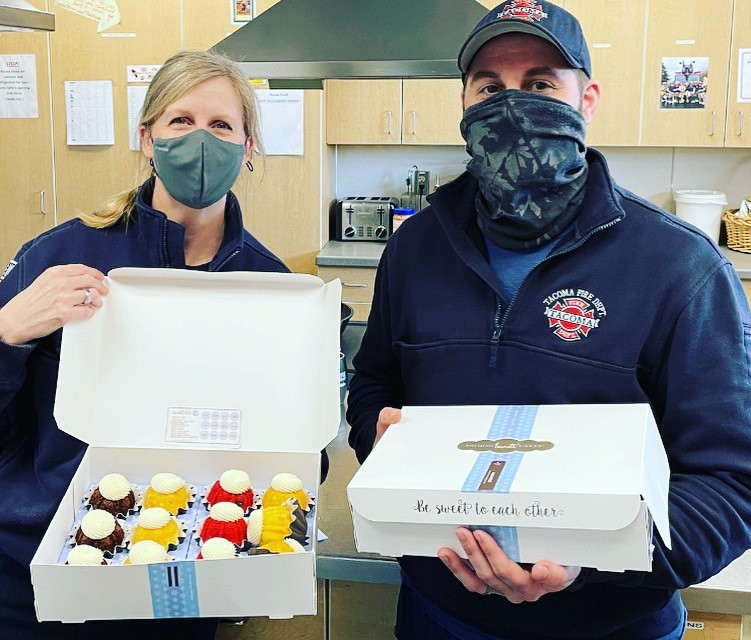 This week Nothing Bundt Cakes made our day! One of our members stopped by to order cupcakes for the Tacoma Station 8 Firefighters—just a small token to say, "Hang in there & we support you."
At a recent house fire, firefighters rescued an 11-year old but she was gravely injured and passed away at the hospital. As police officers and firefighters, we know the tragic calls involving the death of a child are some of the most difficult; they stay with you.
"When I went into Nothing Bundt Cakes today (not in uniform) to order cupcakes, the owner asked me what I was celebrating. I told him they were actually for the Fire Dept on behalf of our officers, to offer support for a tough call they're dealing with. The owner immediately said, 'You're not paying for these!' He consulted with his wife and they covered the cost for us and thanked us all for our service."
The #community support means the world! Thank you, Nothing Bundt Cakes #SouthHill! We dropped off the cupcakes with a card & they brightened the day.
#BehindTheScenes with #TacomaPD #ProtectTacoma #CommunitySpotlight #SupportSmallBusiness