Upon learning that there is a nationwide blood shortage, the International Union of Police Associations is doing their part by hosting a blood drive at our International Headquarters.
The Blood Drive will take place on August 2, 2021 from 11:00 a.m. to 5:00 p.m.
Suncoast Blood Center has graciously agreed to provide us with a bus that day so that employees of the I.U.P.A. and any others who wish may donate to this great cause.
There are two types of donations that you can give. One is called WB for whole blood. The other is called 2RBC for double red cells. If you are under 5'5″, you are not able to sign up for a 2RBC donation, but are welcome to sign up to donate WB.
Click here to schedule your life saving appointment!!!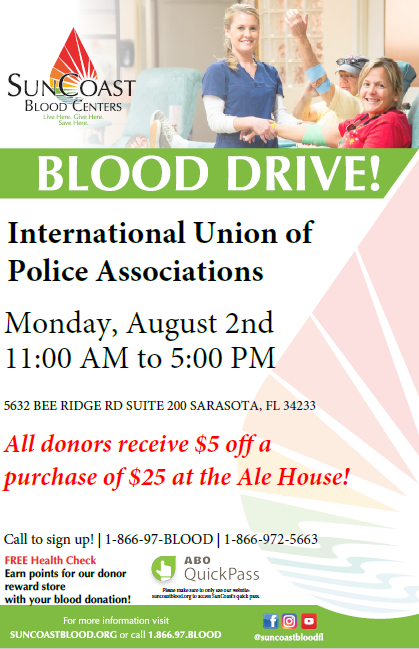 If you would like to host your own blood drive and you are in the Sarasota area, contact Suncoast Blood Centers at 1-866-972-5663. If you are outside of the Sarasota area and would like the contact information for the nearest donation center to you that could help you host your own blood drive, contact the I.U.P.A. Research Department and we will gladly help you with that.