Per the U.S. Department of Health and Human Services website, "More than 760,000 people have died since 1999 from a drug overdose. Two out of three drug overdose deaths in 2018 involved an opioid. In 2019, an estimated 10.1 million people aged 12 or older misused opioids in the past year. Specifically, 9.7 million people misused prescription pain relievers and 745,000 people used heroin."
Those alarming statistics have led to a very real strain on first responders whose job is to save and help those in crisis, that strain being a very real physical and mental one. To combat this epidemic, there are programs operated by LEOs across the nation who seek to prevent addiction in the first place by working with children to teach them to avoid drugs and work to help those adults who already have an addiction and need the help. This article will highlight some of those innovative and helpful programs as inspiration and a model for others to emulate. The details for each came from I.U.P.A. members who work in the different departments and do this wonderful and sorely needed work.
Virginia Beach Police Department in Virginia's First Step Program
The First Step Program is a partnership between the Virginia Beach Commonwealth's Attorney's Office, Police Department, Department of Human Services, Emergency Medical Services, and Virginia Beach Psychiatric Center.
The First Step Program provides individuals who are experiencing an opioid abuse disorder an opportunity to walk into any Virginia Beach Police precinct for assistance in obtaining treatment, rather than incurring a criminal charge or suffering an overdose.
Upon arriving at a precinct, the individual would inform a VBPD officer that they would like to be screened by the Department of Human Services Pathways Center to determine if they are in need of medical detox or should be referred for another level of support or care.  Depending on their level of need, they may be taken to the Pathways Center, Virginia Beach Psychiatric Center, or a Sentara emergency room prior to receiving detox services. No one will be denied service due to a lack of insurance.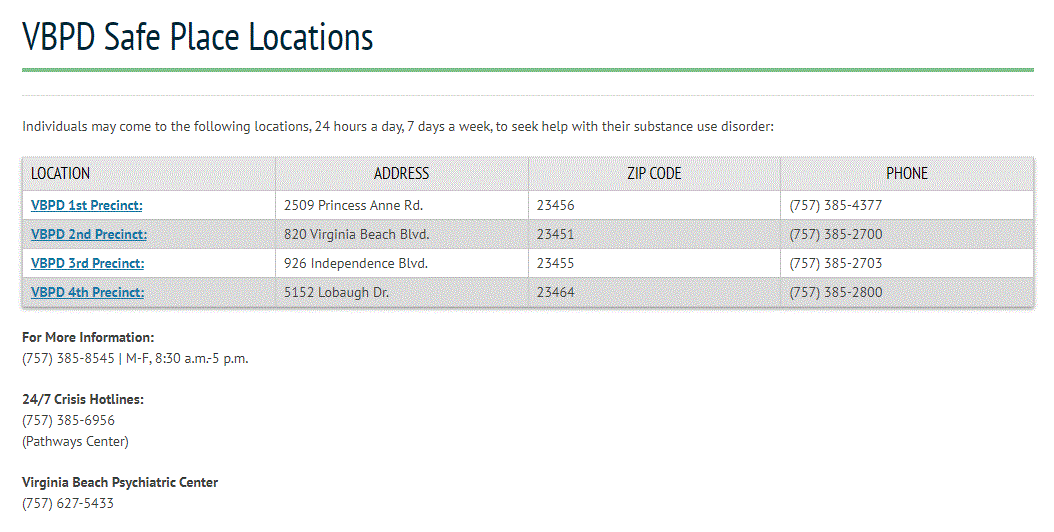 Yonkers Police Department in New York's H.E.A.R.T Initiative
The Heart Initiative is the Yonkers Police Departments new approach to combating the growing epidemic of heroin addiction. It consists of a three-prong approach: Prevention, Assistance, and Enforcement. The primary focus of this initiative is on treatment of the disease of heroin/opioid addiction as opposed to the strict enforcement for heroin/opioid use.
Patrol Officers will identify anyone that they believe to be suffering from heroin/opioid addiction and attempt to connect them to treatment centers at St John's Riverside Hospital located at 2 Park Ave. The treatments offered at St John's Hospital include outpatient and inpatient detox rehabilitation as well as a Community Outreach Coordinator.
Community Affairs Officers will give presentations on the H.E.A.R.T. Initiative and drug prevention upon request at all of the following:
Schools
Community Group meetings
Community Council Meetings
Yonkers Police Social Media Platforms will also provide information on treatment referral, drug prevention as well as information about the H.E.A.R.T. Program. Drop boxes are located in all of our Police Precincts offering the Community a safe location to discard all unused, unneeded, or expired prescription medication 24 hours a day.
Heart Program will track all heroin/opioid related incidents. The Yonkers Police can use this information to deploy our resources into areas of increased heroin/opioid activity. A public safety emergency may exist whenever numerous overdoses occur in a short period of time that are possibly related. The police can notify the public immediately and avoid future overdoses.
DARE Programs from Napoleon, Ohio and Port Orange, Florida
Pictured below are Napoleon Police Officers Association President, I.U.P.A. Member, and Napoleon DARE Officer after his graduation from DARE School with Chief Deputy Eric Reynolds, his own DARE Officer from when he was a child. In the background is a quilt that was made for him which included all the different DARE shirts Chief Deputy Eric Reynolds had handed out throughout his years of teaching DARE.
President Bradley Strickland is also pictured below doing a presentation during week one of a twelve-week DARE program for fifth graders. Two weeks of the program are dedicated to teaching the kids to be safe with over-the-counter and prescription drugs.
Pictured below is Port Orange Police Association and I.U.P.A. Member Nicole Avila who is also a Field Training Officer, Honorguard, and a DARE Instructor. She is teaching a DARE class in many of the photos below. The DARE curriculum has been completely revamped into a safe and responsible decision-making lesson plan instead of a drug prevention program.
It is a ten-week program where they teach one lesson a week. They are currently on week eight of their curriculum. The students are given a workbook that they are able to write in and keep that follows along with the lessons. There are several curricula that they can teach available; K-2nd, 3rd & 4th grade, 5th grade (what we currently teach), 7th and 8th grade, 9th-12th grade, a community/parent lesson, enhancement lessons on vaping/opioids/over the counter prescriptions, and a teen mental health and celebrating safely lesson.
Click here to read about Port Orange DARE Program's lesson plan.