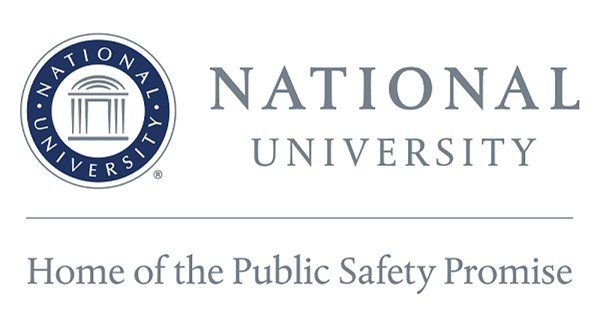 Founded by retired U.S. Navy Capt. David Chigos in 1971, National University is a regionally accredited university and has been dedicated to meeting the needs of hardworking adults by providing accessible, affordable, and achievable higher education opportunities for over 50 years.
 National University is proud to support public safety professionals who protect and serve our communities every day.
National University is offering public safety professionals our Public Safety Promise which is a 25% tuition scholarship for over 75 flexible degree programs. Additionally, I.U.P.A. member spouses and dependents save 25% on tuition as well. As a public safety employee, you can earn an associate, bachelors, or master's degree in fields such as criminal justice, homeland security, and public administration.
Start 2022 in one of our specialized Law Enforcement Programs. Here are two great options:
You can begin the New Year by enrolling in the Bachelor of Science in Criminal Justice Administration cohort. This program starts online January 31, 2022. The cohort is only open to law enforcement personnel, sworn and unsworn. Study with other likeminded individuals from all over the nation while obtaining your degree.
The Bachelor of Science in Criminal Justice Administration degree addresses the needs of individuals who are rising to meet the challenges of 21st century policing. Courses cover basic forensic science, research methods, criminal and civil investigations, juvenile justice, corrections, leadership, and management.
For more information click here!
If you are looking for a way to elevate your leadership potential while gaining a well-rounded Master's in Business Administration, this is your opportunity. This unique Center for Creative Leadership MBA program can be completed in 12-months. All courses in the MBA leadership online program are taught by skilled faculty from their respective institutions. Courses emphasize practical, hands-on experience in targeting real-world challenges and leading the way to solutions. Throughout the program, you will grow as a leader and learn how to navigate the current economic and social climate of business in a meaningful and authentic way.
To specifically meet the needs of 21st-century policing, National University has created "a closed, law enforcement only" cohort session of the CCL MBA to begin on April 4, 2022. This cohort will provide the same content and background of topics with the addition of faculty that have an additional lens of public safety, providing a space for you to learn from your peers in the industry.
To learn more contact Sheno Fuzita
National University's Public Safety Promise to I.U.P.A. Members Covers:
25% Tuition Scholarship
25% Tuition Scholarship for Spouses and Dependents
Credit for Prior Learning (including POST, Command College, FLETC, Firefighter, and more)
Public Safety Promise includes sworn/non-sworn personnel
National University prides itself on its strict alignment with official training standards for several public safety agencies, including Peace Officers Standards and Training (POST), U.S. Marshals, and Fire Departments.
We've Got a Program for You
With more than 75 different degrees available, National University has several programs tailored to the public safety field, including:
Why Choose National University?
Adult Focused for 50 Years: National University has been dedicated to providing accessible, achievable higher education to hard-working adults since 1971.
Flexible 4-Week Classes: Start sooner and finish faster with four-week classes, monthly start dates, and year-round enrollment.
75+ Degree Programs: Choose from career-focused associate, bachelor's, master's, and doctoral programs designed to help you pursue your purpose and make an impact in your community.
Online and On Campus: Study options designed to fit into your busy schedule.
Regionally Accredited: WASC Senior College and University Commission (WSCUC) accreditation means your education meets high standards and is transferable.
Veteran-Founded Nonprofit: National University is proud to be San Diego's largest private nonprofit university.