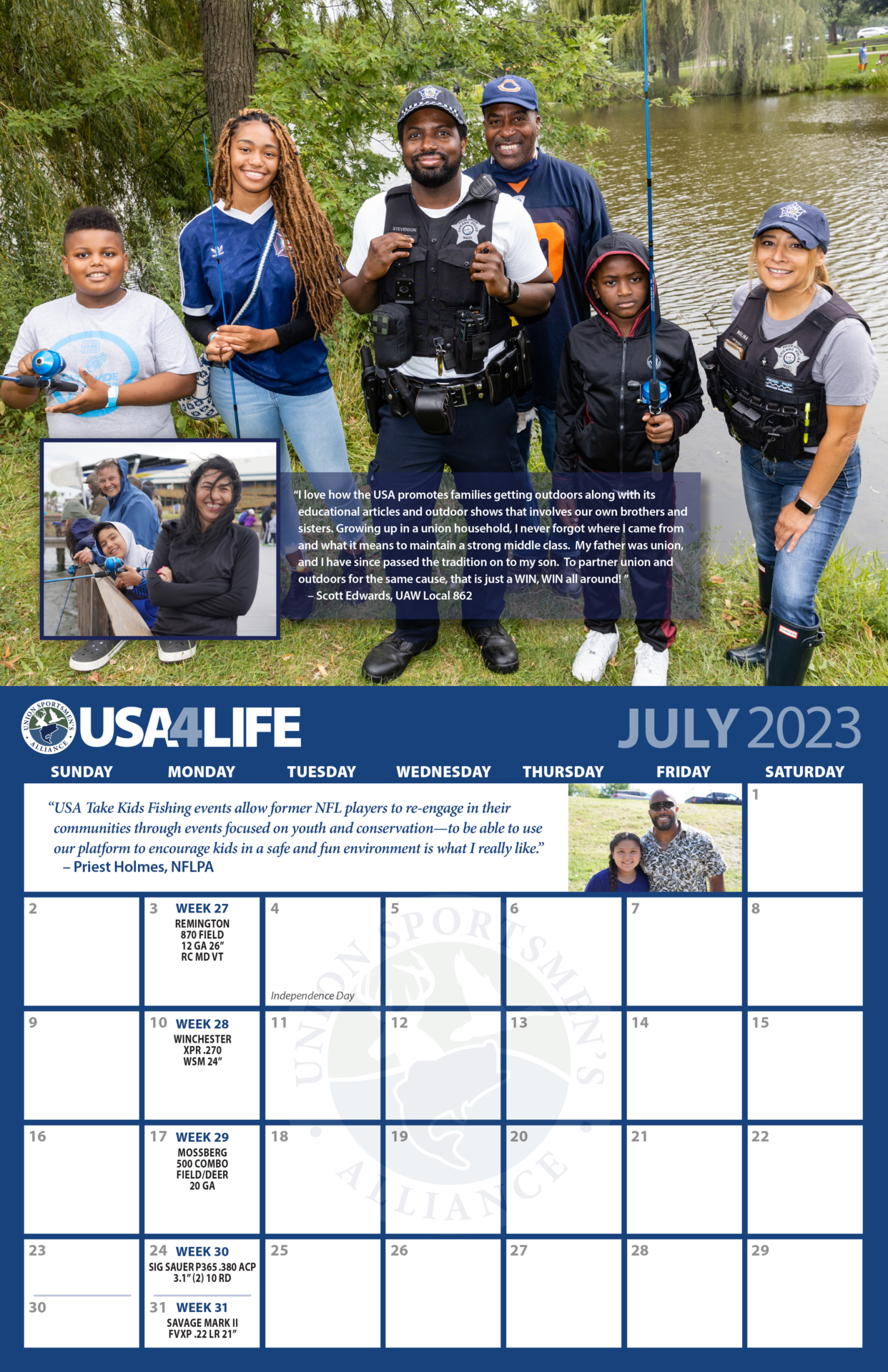 Support Conservation with a USA 2023 Calendar
Featuring USA's 2-Guns-A-Week Sweepstakes
We hear about them every day – giveaways, the lottery, social experiments, and you cannot help but wonder… is any of it real?
While we cannot confirm or deny things on the internet, we can promise you that the Union Sportsmen's Alliance (USA) 2023 calendar program, featuring its popular 2-Guns-A-Week Sweepstakes, is as real as the lucky gun winners and the positive impact it has on conservation.
Since 2013, the USA calendar program has helped raise funds to support the USA's mission to unite union members through conservation to preserve North America's outdoor heritage through hands-on, community-based conservation projects and events.  The USA's recent Chicago Fish with a First Responder event is a perfect example of those funds in action. It engaged inner-city youth and their families in the outdoors while providing them with the chance to interact with local police officers and firefighters in very positive environment.
The theme of the USA's 2023 calendar is USA4LIFE. Each month includes photos and testimonials from proud USA members and tells the stories of members who are passionate about their union and passing on the outdoor heritage.
It is a calendar you will be proud to hang on your wall.
As an added bonus, you will get two chances to win a gun every week of 2023 by registering your calendar in the USA's 2-Guns-A-Week Sweepstakes. It will have you looking forward to Mondays to see if you are one of the lucky winners.
You have probably spent $10, $20, or more for a single chance to win a firearm at some point, right? Well, when you donate $35 to the USA, you will receive a 2023 calendar and 104 chances to win a firearm. In addition, you will feel good knowing your contribution helped support conservation!