Law Enforcement Officers across the United States
observed Memorial Day in a variety of ways this year.
Virginia Beach, Virginia
Virginia Beach Police Benevolent Association 34 feeds officers every year who work over Memorial Day weekend.  This year, they served up some delicious BBQ. They also remember and share about Officer Brad Harper every year on Memorial Day, who gave his life serving our country. Their post on social media read, "Today and every day we honor all of those who lost their life serving our country, including our own Officer Brad Harper Sgt. USMC KIA Iraq 3 Aug 2005." They also posted about a race car driver, Ryan Preece, who honored U.S. Marine Corps. Sergeant Harper on May 25, "Thank you to Ryan Preece for honoring one of our own, VBPD Officer and USMC Sgt. Brad Harper. What a great tribute."
Harris County Constable Precinct 4, Texas
I.U.P.A. members and officers from Harris County Constable Precinct in Texas participated in The Murph workout honoring those who served in the armed forces and paid the ultimate price. The department posted about it on Facebook, "Today, Constable Mark Herman's Office attended the Murph Workout Challenge Event at CrossFit Salute located at 22938 Kuykendahl Road. Members participated in The Murph workout this morning honoring those who served in the armed forces and paid the ultimate price."
Sarasota Police Department, Florida
A Publix in Sarasota, Florida treated officers at Sarasota Police Department to some delicious cake. Sarasota officers and I.U.P.A. members also worked and participated in the annual Memorial Day Parade. The department posted, "The theme for the 2023 Memorial Day parade in Downtown Sarasota was 'All Gave Some. Some Gave All.' The keynote speaker was Capt. Richard "Dick" Petrucci, U.S. Navy, retired. Our Officers were honored to be a part of this annual event in the City of Sarasota, Government. They were out early closing roads, checking the parade routes and making sure everything ran smoothly. The parade included local law enforcement agencies, first responders, honor guards, veterans' groups, community organizations and more!"
Toledo Police Department, Ohio
Toledo Police Department posted about Carry the Load making Toledo a stop on their memorial tour, "Thank you to Carry the Load for making the #toledopolice department a stop on their memorial tour for the second year in a row. Their goal is to restore the true meaning of Memorial Day and honor military members and first responders."
Bel Air Police Department, Maryland
Bel Air Police Department shared about the ceremony their city held that their officers and I.U.P.A. members worked and attended in Shamrock Park. They also met with, interviewed, and photographed veterans who attended the ceremony. In their post on social media, they shared, "A perfect day to honor and recognize our service men and woman in Shamrock Park.  It was very inspiring to see many, many attendees today for the Memorial Day ceremony.  We took the time to briefly interview and photo just a few of the many veterans in attendance.  We wish we could have gotten all of them.   Please take the time to read their amazing stories and how they served and sacrificed for our country!  Please thank a veteran when you can as our country would not be here without them." You can read their stories at this link.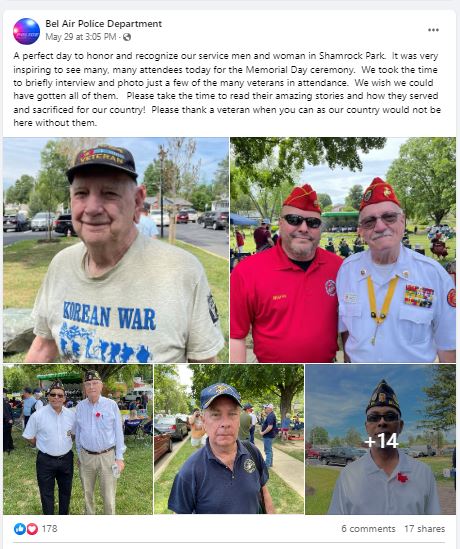 Each week, the I.U.P.A. Briefing Room features a photo that exemplifies the valuable part of the community that our Law Enforcement Officers all across the U.S. are and their positive impact as well as their dedication, service, and sacrifice.
Submit your photos today to be considered for the photo of the week next week to alinaj@iupa.org.
Previous photos of the week have included: