Welcome to I.U.P.A.
The International Union of Police Associations is the only union chartered exclusively for law enforcement and law enforcement support personnel. While I.U.P.A.'s officers, active and retired law enforcement officers, fight to improve the lives of their brothers and sisters in law enforcement, I.U.P.A. works to improve legislation that protects and affects public safety officers, as well as representing the needs of law enforcement officers and support personnel, whether that be for better equipment, more staff or a fair wage.
Speaking with one Voice, Moving with one Purpose

The Alliance for Retired Law Enforcement Officers (ARLEO) organization offers a variety of Benefits that provides a resource to Legally Protect any LEO in Good Standing to Carry their Personal Firearm and offers Savings of Thousands of $'s Annually for them and their Families…
Link to www.arleo.org
The International Union of Police Associations is aware of the controversy surrounding the recent Governor's appointment of Keith Pearson to the position of Sheriff of St Lucie County. Neither the International nor the St. Lucie Deputies Association, Local 6010, were solicited for nor provided any input into this appointment process. [...]
Travel Car rentals: Traveling over the holidays? Your next trip just got a lot cheaper. Get exclusive deals from NINE car rental companies. Hotels: Save big on hotel stays worldwide! Pick a spot on the map and pack a bag... U.S. ... Caribbean ... bucket [...]
Life Insurance…It's not about you. Life insurance is something you do to help protect those you love so they don't suffer financially if your income is no longer there. Life insurance can be the only thing that stands between your loved ones and financial hardship. [...]
Nobody knows the importance of quality ammunition and performance better than our union brothers and sisters in law enforcement. That is why Liberty Ammunition is offering I.U.P.A. members an exclusive, limited-time offer of 40% off ammunition purchased through the Liberty Ammunition website through Dec. 15, [...]
Lakewood Police Department posted on social media proudly about their Victim Assistance Unit winning the DASH Award (Domestic Abuse Survivor Heroes) for their work with victims of domestic abuse. The hardworking and dedicated ladies of Lakewood, Colorado who won the award are wives of I.U.P.A. Local Lakewood Police Union, [...]
Union Plus

Heroes Vacation Club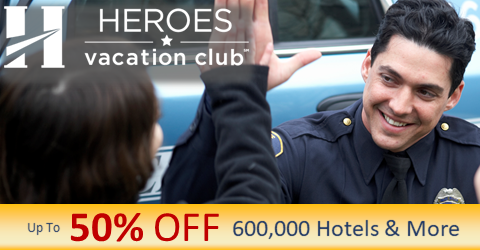 Start your 120-day free trial Click here — there will be a subscription fee to continue receiving these amazing discounts.
Check Out Our Exciting New Products: 
600,000 hotels up to 60% off retail
2,000 Weekly Condo-Style resorts up to 25% off retail
Car Rental
Activities
Flights
2,000 Cruise Itineraries (booked by phone only)
HEROES POINTS: New members receive 1,000 Heroes Points to be used to buy down travel products – giving members' additional savings.  New members who sign up for a Free Trial Membership or existing members who log in are eligible to win one of five weekly vacations by being entered in "Win a 7-night vacation" with our Vacation for Heroes Sweepstakes!